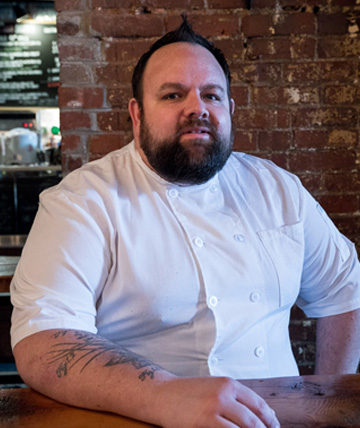 Phillip Milton, of Michigan, began his culinary interest at a young age, watching and learning from his mother and grandmother in his childhood home. Over the years his passion for cooking lead him to apply to culinary school, and his attendance at Scottsdale Culinary Institute in Arizona expanded his repertoire and style of cooking immensely. Upon his completion, Chef Phill, returned to his roots in Michigan working in kitchens across the Detroit area.
In 2001 Chef Phill put his career on hold to serve his country and enlisted in the U.S. Army where he served two tours. Upon his safe return he relocated to Tampa, Florida where he not only returned back to the kitchen, but back to school as well to earn a degree in Computer Science at the University of South Florida. After two degrees and two years in the army under his belt he was ready to return to his true passion of cooking. Chef Phill began working for Tommy Bahama restaurant and was promoted to their Flagship location in Manhattan. Here, he worked with his culinary mentor Kouri Killmeier who modeled exemplary dedication and leadership.
In 2014 Chef Phill returned to Florida and worked in various kitchens in the Tampa Bay area but none compared to working in a small cottage under a James Beard chef finalist.